Bara:
Franchement le service va au-delà de mes attentes. Priscille vous êtes extraordinaire ! Vous êtes tout le temps disponible et vous accordez une attention particulière aux besoins tout au long du séjour. Un très grand merci et je recommande vivement !🙂 (Translated by Google) Frankly the service goes beyond my expectations. Priscille you are extraordinary! You are always available and pay special attention to needs throughout the stay. A very big thank you and I highly recommend! 🙂

Richnel:
Priscille is always aiming big for all applicants. I was not familiar with opera system in the hotel industry I didn't even have experience in hotel reception and she pushed it so big for me I ended up as Night Manager and now I got some much experience with opera system. She's very professional and always free anytime you need her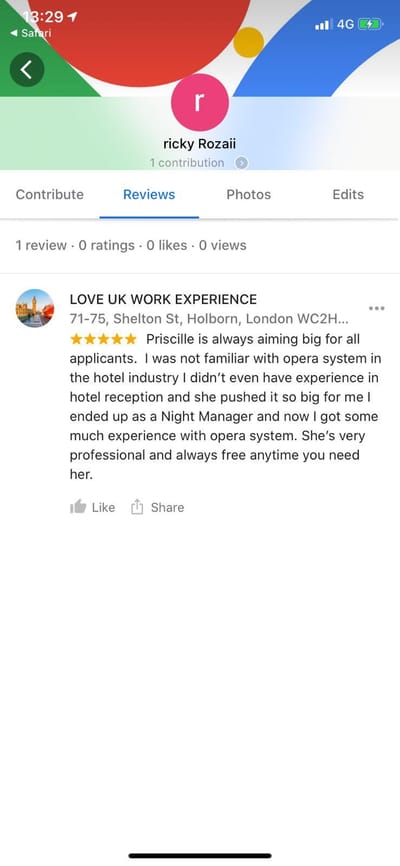 Nicolas:
Ingénieur
LOVE UK WORK EXPERIENCE est une entreprise sérieuse et réactive surtout avec la présence de Priscille qui a su me trouver un second hôtel en « urgence » pour répondre à mes attentes. Les séances de communication 1 mois avant le départ sont d'une grande utilité et se font dans la bonne humeur. Je recommande à toutes les personnes qui souhaitent voyager, apprendre la langue ou travailler dans un pays anglo-saxon à travailler avec LOVE UK WORK EXPERIENCE.
Aurélie:
Etudiante
Pour ma part le processus fût très rapide et j'en suis très satisfaite. Priscille est aux petits soins, pleins de bons conseils et est entierement disponible et a l'écoute si on a besoin de renseignement ou d'aide. Priscille a toujours été disponible et bienveillante, je la remercie pour m'avoir répondu a chaque fois très rapidement. 
Mohammed:
Etudiant
Coaching réaliste qui permet d'être vraiment préparé.L'accompagnement est correct.Bien , de manière générale c'est une bonne expérience.
Julie:
Etudiante
C'est une expérience très enrichissante, que je suis contente de vivre même si ma famille me manque beaucoup. Leprocessus de candidature est très rapide et simple
Kassandra:
Etudiante
3 mois bientôt que j'ai pu réaliser mon projet de partir en Angleterre grâce à Love UK work Experience, un suivit exceptionnel du départ jusqu'à l'arrivée ! Un grand merci 😊
Eddy:
Simple, Efficace et Rapide ! 👍 Voila les 3 premiers mot qui me viennent concernant Love UK WORK Experience ! J'ai depuis peut rejoint un superbe établissement, localisation rêvée et tout cela a été orchestré merveilleusement par Priscille que je remercie énormément ! Vous voulez vous rendre au Royaume Unis pour y travailler? Vous voulez être accompagner et épauler quand vous en avez besoin? Alors je ne peux que vous conseiller de choisir Love UK WORK Experience pour cela ! ❤️🇬🇧️👌
Romane:
Je suis partie dans un super établissement avec mon meilleur ami, nous avons eu des prestations de qualités exceptionnel de la part de Précille! C'est une personne extraordinaire avec qui nous avons travailler notre anglais 2mois avant notre départ. Ce qui nous a permis de moins galèrer en arrivant, nous tenons à remercier Précille pour TOUT le travail effectuer pour nous! Car même ici elle continue d'être totalement la pour nous! Nous sommes reconnaissant de la chance que nous avons eu de tomber sur cette agence et surtout Précille à qui je conseil n'importe qui, qui souhaitent partir de partir dans des conditions totalement sans stress. L'aventure commence grace à vous et ce n'est qu'un début! Merci encore ✊🖒👏
Valentin S:
Priscille is very professional and social she always do her best for you dont hesitate

Ines K:
March 2020
KADI Inès 4 reviews 4 months ago- Je recommande cette agence à 100 % ! Aide personnalisée au top ! Priscille a su répondre à toutes mes attentes et m'a aidée du début jusqu'à la fin. Un seul conseil : Si vous souhaitez perfectionner votre anglais ou trouver un travaille en Angleterre, ne réfléchissez plus et faite confiance à Love UK WORK Experience. (Translated by Google) I recommend this agency 100%! Personalized help at the top! Priscille knew how to meet all my expectations and helped me from start to finish. One piece of advice: If you want to improve your English or find a job in England, think no more and trust Love UK WORK Experience.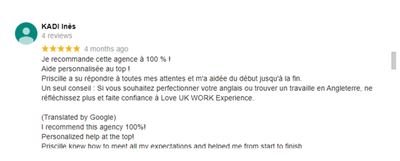 Natalia:
June 2020 - Student in France - Remote internship in the UK
Natalia Andrea Calcetero Galvis 3 weeks ago- Positive: Professionalism, Punctuality, Quality, Value

Samir Tamboura:
December 2019 - 1 year work experience in Manchester UK
samir tamboura 1 review a year ago- J'avais l'intention de partir en angleterre assez vite pour y apprendre l'anglais, et passer par love uk work experience m'a permis de réaliser mon projet. L'établissement est efficace et professionel. Je remercie Priscille pour l'accompagnement personnalisé : préparation aux entretiens, cours d'anglais, suivi administratif; et pour le placement simple et rapide : un appartement et un travail dès l'arrivée. Et je conseille cette agence à tous ceux qui souhaitent partir à l'étranger en tout en profitant d'une aide et d'un suivi d'excellente qualité. (Translated by Google) I was planning to go to England fast enough to learn English, and going through love uk work experience allowed me to do my project. The establishment is efficient and professional. I thank Priscille for the personalized support: preparation for interviews, English classes, administrative follow-up; and for quick and easy placement: an apartment and a job upon arrival. And I advise this agency to all those who wish to go abroad while enjoying a help and a monitoring of excellent quality.

Ellachar Victorin:
Hospitality work experience in North Yorkshire in 2019
ellachar victorin 1 review a year ago- Moi personnellement je remercie love Uk expérience de m'avoir donné cette chance de connaître la Grande Bretagne Et fantastique tout mes vœux se sont réalisé grâce à love Uk je peux améliorer mon anglais et avancer J'ai été placé dans une belle ville et je suis très ravi et on m'a bien accueilli comme une princesse 👸 (Translated by Google) Me personally i thank love uk experience for giving me this chance to know britain And fantastic all my wishes come true thanks to love uk i can improve my english and move on I was placed in a beautiful city and I am very happy and I was welcomed as a princess 👸